Official Naming of the Albertina Sisulu Orchid
The critically endangered orchid Brachycorythis conica ssp. tranvaalensis was officially named the Albertina Sisulu Orchid at the launch of the Sisulu Circle at the Walter Sisulu National Botanical Garden on the 10th July 2018.
The prestigious event was attended by members of the Sisulu family, the Minister of Environmental Affairs Dr. Edna Molewa, The Minister of Tourism Mr. Dereck Hanekom as well as representatives of the Department of Environmental Affairs, SANBI, Mogale City Municipality and community members. 
A bronze statue of the late Walter Sisulu overlooking the spectacular Sisulu Circle at the entrance of the Garden was unveiled as part of the proceedings. 
Karsten Wodrich, Vice Chairman of WOSA gave a short presentation to the reasons why the name Albertina Sisulu Orchid was chosen for the critically endangered orchid before presenting a limited edition print of the magnificent orchid by renowned artist Daleen Roodt to members of the Sisulu Family Mr Max Sisulu and his wife Elinor. The framed print was jointly sponsored by the Proteadal Conservation Association and Wild Orchids Southern Africa. Currently, the only viable population of around 120 plants of the Albertina Sisulu Orchid is found a mere 2.5km from the Sisulu Circle as the Black Eagle flies. This area currently under threat of development which will also be encroaching on the hunting grounds of the majestic Black Eagles. The Record of Decision by the MEC to allow development in the area to proceed is currently being contested in a High Court application by community organisations.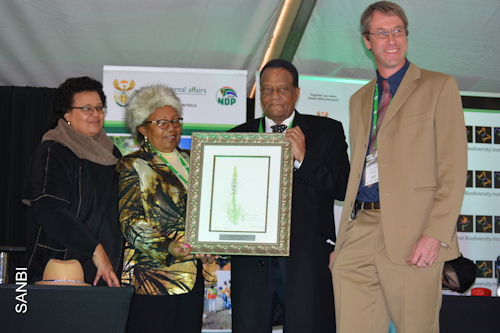 In his presentation Karsten pointed out that if the developments were allowed to go ahead there was a very strong possibility for the orchid to become extinct in our lifetime. He pleaded for everyone to 'Do the right thing', to stop the proposed development and proclaim the area a reserve in order to preserve the orchid for generations to come and with that also preserve the memory of a very special person Ma Albertina Sisulu.

Both the ministers and the mayor of Mogale City noted that it was in everyone's best interest for the issue to be settled out of court and voiced their commitment to finding a way of settling the issue.
Read more about the Albertina Sisulu Orchid