Proceedings WOSA 4 Conference 2019
 
Richard Braby(Speaker), Prof. Steve Johnson(Speaker), Marinus Kort(Audiovisual)
Prof. Craig Peter(Speaker), Gerrit van Ede(Speaker) Andrew Hankey(Speaker), Peter Ashton(Speaker), Martin Rautenbach(Speaker), Erhard Schmid(Registrar), Jane Kratz(Delegate), Tanay Bose(Speaker), Karsten Wodrich(President)
Christo Page(Session Chairman), Jim Holmes(Speaker), Jimmy Pauck(Conference Host), Modjadji Makwela(Speaker), Prof. Joanna Dames(Speaker), Dean Phillips(Speaker)
Index 
1. Opening address
WOSA President Karsten Wodrich
Karsten has been growing orchids since he was 14 when he first found a colony of Eulophia ovalis ssp. bainesii in Robindale, Randburg. Whilst studying to become a Mechanical Engineer at the University of Stellenbosch he published a book entitled Growing South African Indigenous Orchids in 1996. After leaving university Karsten stared both a family and a business, and orchids had to take a back seat. Now that both those undertakings have become firmly established he has returned to his love of orchids and is concentrating on propagating species and hybrids from seed. He is currently President of WOSA.
 Welcome
For those that that are attending the Conference for the first time our vision at Wild Orchids Southern Africa (WOSA) is "to engender a real interest in indigenous orchids which will render them valuable and worthy of protection." This approach to conservation is significantly different from the fear-based approach which predominated ten years ago which suggested the best way to protect indigenous orchids is to not talk about them at all. Such thinking will not stop developers from bulldozing natural orchid habitats without the necessary Environmental Impact Assessments and permits. Conservation and education are key to the survival of orchids, as is the establishment of Wild Orchid Chapters across the country.
Download the pdf Opening-Address-K_Wodrich-WOSA4-2019
2. Where has all the pollen gone, towards a better understanding of pollen fates in orchid populations
Prof. Steve Johnson
Professor Steven Johnson's research focuses on pollination biology, evolution, plant speciation, insect-plant relationships, and floral deception and mimicry.
He obtained a B.Sc. (Hons.) and Ph.D. in Botany from the University of Cape Town in 1994. He then worked as a post-doctoral researcher at the University of Haifa in Israel and at Uppsala University in Sweden before moving to UCT where he was a Smuts Post-doctoral Fellow. He is currently a full Professor at the University of KwaZulu-Natal, and holds the DST/NRF South African Research Chair in Evolutionary Biology. During the course of his career he has published or co-published more than 270 peer-reviewed scientific papers and book chapters, as well as four books: Table Mountain: a Natural History (1999), Cape Orchids (2012), Orchids of South Africa (2015) and Floral Mimicry (2017). He has served on the editorial boards of Oecologia, Arthropod-Plant Interactions, and Proceedings of the Royal Society: Biological Sciences and has acted as a reviewer for numerous other journals. He started working at Verloren Vallei in the mid 1990s. 
Abstract

The presentation covers all aspects of the transfer of pollen in indigenous orchid populations. These include the methods of pollen transfer, the distance that pollen is transferred, how much pollen actually reached the stigmas of the orchid flowers and how much pollen is involved in self-pollination. This research requires novel ways of data collection such as chemical staining of pollinia. 
3. Cultivating African terrestrial orchids
Jim Holmes
Jim Holmes owner and co-founder of Cape Seed and Bulb Company, studied horticulture and Biology at Guelph University in Ontario, Canada, prior to working at the Glasgow Botanical Gardens where he looked after the orchid house. After extensive overseas experience in terrestrial orchid species (including Disa, Eulophia, Satyrium and Brachychorythis), he eventually settled in Stellenbosch where he worked at the Barlows' Rustenburg Estates. In 1978 he started his own business where hsi main focus has been on African Bulbs and orchids.
Abstract
One can categorize orchids into 2 basic groups, epiphytic and terrestrial.The epiphytic species are widely grown, with their tough phylogne roots, which anchor the plants to the trees and branches and absorb water and nutrients, and free air movement. Most of these if grown under right conditions, will thrive, are easily propagated from seed as their germination nutrient solutions have been developed. This is not true for the terrestrials, with their soft tuberoids and delicate roots covered in fine root hairs adopted to grow in soil, or compost growing medium where the watering and growing medium is crucial for good results. Seed germination is problematic for most terrestrial species as the correct germination nutrient solutions have yet to be developed.  They are generally seen by most orchid people as too difficult to grow and so are neglected. With the vast devastation of the natural environment, many of these terrestrial species are in danger of becoming extinct, and serious attempts need to be made to prevent this from happening. Cultivation may play a very important role here. 
4. A systematic review of the genus Stenoglottis
Dean Phillips
 Abstract
Stenoglottis Lindl. (Orchidaceae) is a small genus of orchids native to forests of Southern and East Africa. While the genus itself is unquestionably monophyletic, species delimitations remain unresolved. Previous taxonomic treatments have recognized between four and nine poorly circumscribed taxa, some of which are rare and locally restricted. Inaccurate species delimitations are of concern and may hamper effective conservation measures. We investigated taxon boundaries by means of a combined morphological and molecular phylogenetic approach, The results do not support the current delimitation of Stenoglottis taxa and, consequently, a new taxonomic treatment is proposed.
5. The genus Polystachya in South Africa
Dr. Peter Ashton
My love for orchids started in high school when I bought my first plant, which, I am pleased to say, is still alive. I matriculated from an Agricultural high school, studied horticulture at the Pretoria Technikon and received my B-Tech degree in 2007. After being employed as a senior horticulturist for some years, I eventually decided it was time to do my own thing. Together with Nollie Cilliers, we started Plantae Orchids, an orchid and rare plant nursery. We strive to supply the local market with the latest hybrids and also sought-after species. As a member the Orchid Society of Northern Transvaal, I soon realized I wanted to become an orchid judge. I qualified in 2008 as a judge with the South African Orchid Council and currently serve on the SAOC board as president. I was the show chairman of the 15th National SAOC Orchid Show hosted by the Rustenburg Orchid Society which is now my home society. September 2013 saw the release of 'Anyone can grow orchids' - a book authored by Nollie Cilliers and myself. We expect it to act as a guide for South African orchid growers and gardeners. This book as well as talks at orchid societies, garden clubs and conferences is my way of sharing a love for orchids with like- minded people. I love seeing orchids grow in nature and we take every available opportunity to go and search for orchids in the natural habitat.
Abstract

Eleven species of Polystachya plus one natural hybrid have been confirmed to occur in South Africa; this is equivalent to 21% of all the epiphytic orchid species that have been recorded in the country. Another species, P. zambesiaca, is also probably present in the Limpopo Province of South Africa (Stewart et al., 1982), but this must still be confirmed because the evidence provided is insufficient. Most Polystachya species in South Africa occur in small pockets of suitable habitat that span a wide altitudinal range from the Western Cape eastwards along the coastal and mountainous areas, and then northwards to Limpopo Province. Five of the Polystachya species and the one natural hybrid are endemic to South Africa and Swaziland.
Download the full paper The-genus-Polystachya-in-South-Africa-P_J_Ashton-WOSA4-2019.pdf
6. A synthesis of the threats to and conservation status of South African Orchids
Prof Craig Peter
Prof Craig Peter is Associate Professor at the Department of Botany at Rhodes University. He is interested in a broad range of ecological and evolutionary questions associated with plant pollination biology. Craig is currently undertaking the pollination biology studies on the critically endangered orchid Brachycorythis conica subsp. transvaalensis.
Abstract
Globally, orchids include some of the most threatened plant species and the entire family is listed as CITES appendix 2 reflecting the breadth of these threats as well as the challenges of mitigating them. The large number of threats are likely a consequence of both narrow habitat requirements of many orchids as well as their specialized biotic interactions. The southern African orchid flora includes 481 species (509 taxa: species, subspecies and varieties, but excluding hybrids), across 54 genera but 75% of these species belong to just 11 genera. Of the 509 unique taxa, 334 (66%) are endemic to South Africa, Lesotho and Swaziland. The vast majority of these taxa have been screened by the SANBI red listing efforts. Analyzing these data reveals that 88 taxa (17%) are of conservation concern (EX, CR PE, CR, EN, VU or NT) and a further 42 (8%) are naturally rare but are not currently threatened. Of the 334 endemic taxa, 80 (24%) are of conservation concern and all but one of the naturally rare taxa are endemic. Forty percent of the threatened taxa occur in the summer rainfall areas while sixty percent occur in the winter rainfall areas. Only 49 taxa are found in both summer and winter rainfall areas and two of these are considered vulnerable. Individual red list species assessments include descriptions of threats. The most frequently implicated threats include invasion by alien vegetation (24% of cases), urban development (19%), Agriculture (15%), overgrazing and trampling (7%), fire mismanagement (6%), collection and flower picking (5%), forestry (4%), mining (3%) and pollinator loss (3%) among numerous others (e.g. medicinal collection, infrastructure development, eutrophication and pollution, erosion and fragmentation). Thanks to SANBI's efforts, South Africa has a comprehensive understanding of the status of our orchids and the threats that they face. Further work should leverage this foundational knowledge to prioritize both research and conservation efforts.
7. Orchids of the KwaZulu Natal South coast Mtumvuma Reserve/Gorge
Martin Rautenbach
Martin Rautenbach spent a lot of his free time hiking in the Magaliesberg before he transferred to the KwaZulu Natal South Coast in 1981. As commanding officer in the Police Station in Weza (against the iNgeli Mountain), he developed an intimate knowledge of this rugged mountain area and its forests. In 1996 he joined the Alfred County Orchid Society where he served on the committee in various positions as well as the president. Marin qualified as a South African Orchid Council judge in 2010 and currently spends his time photographing and recording South African orchid species in Southern KwaZulu Natal. Martin has a keen eye for unusual flower forms and potentially new species.
Abstract

Note that there are two different spellings of the name, Mthamvuna, the name of the river that forms the boundary between the Eastern Cape and Kwa-Zulu Natal, and Umtamvuna, the name of the Nature Reserve that is situated on the Northern bank of the Mthamvuna River's lower side.
The Mthamvuna River has its headwaters in the I'Ngeli Mountain on the eastern side of Kokstad in the Midlands. The river winds its way east, and at a point about two thirds on its way to the Indian Ocean, it breaches a way through one of the oldest geological formations in Kwa-Zulu Natal, called the Pando Land System, a slightly younger formation but still part of the Natal System. It is a rugged, broken up area of sandstone plato's and steep and deep gorges, yet breathtakingly beautiful, with beautiful flora that includes many species of orchids, some that can only be found in this area. The grassy slopes and plato's incorporates several wetlands, damp and dry grasslands with lots and lots of terrestrial orchid species, the steep slopes in the Mthamvuna River Gorge are densely forested, with Epiphytic and Lithophetic orchids to be found everywhere.
The Mthamvuna River emerges out of The Gorge at Port Edward where on its north bank has another small conservation area known as the Red Desert, the sight of many rare orchids and some that is outright enigmatic in comparison with some closely related species. This area will form a portion of the presentation at the Terrestrial Orchid Conference in the Drakensberg.
8. Are some orchid mycorrhizal fungi more casual than others?
Prof. Joanna Dames
Prof Joanna Dames is a Microbiologist/Mycologist and completed her BSc and BSc Honours degrees at the University of KwaZulu-Natal in Pietermaritzburg. After some work experience she obtained her MSc and PhD degrees from the University of the Witwatersrand where she also worked as a Research Assistance and Technical Officer in Biochemistry. Prof Dames joined Rhodes University in 1997 as a lecturer and was Head of the Department of Biochemistry and Microbiology for over 7 years. She is currently Deputy Dean of Science, lectures in Microbiology and runs an active Mycorrhizal Research group. She has graduated 46 postgraduate students at all levels, and is an NRF C2 rated scientist. She shares her passion for mycorrhizal fungi through public talks and articles. 
Abstract
Orchids are associated with fungi, mainly from the Basidiomycota phylum forming unique mycorrhizal associations. The fungal associates of South African orchids are largely unknown and recent research on several orchid species occurring in the Eastern Cape have indicated some unexpected fungal partners such as Xylaria, Psathyrella, Oidiodendron. Several of these fungi are known to associate with other mycorrhizal host plants forming different mycorrhiza associations when considering morphological interactions with root cells. Other fungi are more saprotrohic. These more casual associations will be discussed in terms of their biological and ecological potential. 
9. Diversity of Mycorrhiza with endemic South African orchids
Modjadji Makwela
Modjadji Makwela is a student with the University of Pretoria and completed her Bachelor in Sciences in Microbiology at the University of Pretoria in 2016 and has just completed her Honours in Microbiology on the exciting subject of mycorrhiza with her advisor Dr Almuth Hammerbacher and co-advisors Tanay Bose and Prof Brenda Wingfield.
Abstract

The diversity of mycorrhizae associated with orchids is not well documented. In this regard South Africa is not an exception. South Africa harbours over 500 orchid species of which 471 are endemic and largely endangered. Community composition of mycorrhizae associated with these endemic orchids is substantially unknown. The present study aims to determine the community composition of mycorrhizae associated with four endemic terrestrial orchid species in the genera, Habenaria and Brachycorythis. For this, orchids and rhizosphere soil samples were collected from the Walter Sisulu National Botanical Garden and an orchid farm in Gauteng province. Positive mycorrhizal interactions were confirmed using light microscopy of the orchid roots. Mycorrhizal diversity was determined using both culture dependent and high-throughput sequencing platform (HTS). For HTS, environmental DNA (eDNA) was extracted from orchid roots and rhizospheric soil samples, followed by amplification of the eDNA using mycorrhizae specific primers. Amplicons were sequenced using Illumina HiSeq 2500. Results from the present study will provide a substantial list of potential mycorrhizae associated with each of the orchid species and in their rhizospheric soil. In future, this information can be implemented in ex-situ conservation of these orchids.
10. Barcoding of South African orchid mycorrhizae - unravelling the diversity
Tanay Bose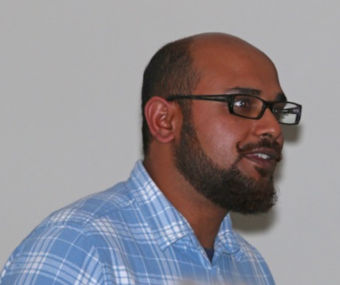 Tanay Bose completed his Bachelor in Sciences and Master of Sciences in Botany in Calcutta in 2007 and then specialized in the taxonomy and molecular Systematics of Fungi – completing his Doctorate in Microbiology with the University of Pretoria.
Abstract

The conservation of wild orchids requires the presence of mycorrhizal associations. However, for most South African orchids, these symbionts are not known. To identify the mycorrhizal fungi associated with Habenaria barbertonii both culture dependent and independent approaches were used. DNA extracted directly from orchid roots as well as from fungal cultures was used for DNA barcoding. Results showed that H. barbertonii associates with the mycorrhizal genus Ceratobasidium. A culture of this fungus allows for further research into its effect on orchid seed germination. Future research will deal with the implementation of mycorrhizae in conservation approaches for South African orchids.
11. Conservation of Habenaria barbertonii and Habenaria kraenzliniana
Gerrit van Ede
Gerrit was born in the Netherlands and came to South Africa with his parents in 1949. He obtained the degrees BSc (Eng) Electrical and a MBA from the University of Pretoria and started growing orchids in 1962 after he collected three orchid species being: Cyrtorchis arcuata, Eulophia speciosa and a Bulbohyllum species. He has served as a judge with the South African Orchid Council for 26 years and was the President of the South African Orchid Council for two non-consecutive terms. His main interest is in African and specifically South African orchids as well as Paphiopedilums. Gerrit was always interested in conservation of orchids and shifted his interest more in this direction after the 1988 SAOC National Orchid Conference and Show. He visited Verloren Valei Nature Reserve in Mpumalanga for the first time in early 1989 and after that, visited the reserve with orchid friends about every three weeks during the orchid growing season for a number of years. He still visits the reserve regularly. Gerrit was chairman of the 21st World Orchid Conference and Show, held in 2014 in Johannesburg and served on the organising committee as well as being the Conference Chairman.
Abstract
The decline in number of plants of two terrestrial orchid species namely, Habenaria barbertoni and Habenaria kraenzliniana and the stable position of two others Habenaria epipactidea and Bonatea antennifera in the rural area I live in (east of Pretoria), are investigated. The period covered is from 1977 - 2017: That is 40 years. The following changes occurred that may individually or collectively caused the decline. Possibly the most important one is the burning of the veld. Secondly, is alien vegetation and thirdly, indigenous vegetation. Human interference could also be a main cause, but as the decline also occurred on my property and I did my best to maintain the original vegetation on parts of my property on which these plants occurred, I am not listing this as a main cause. Although these changes took place in the whole area as well as on my property, it is of interest that the two species H. epipactidea and B. antennifera were not affected. It is unclear why they remained stable or even increased in number on my property. A disturbing recent trend by some land owners in our area is to cut the veld very short five or six times a year and thereby destroying the biodiversity of large areas of veld.
12. Crowdfunding for the Albertina Sisulu Orchid Project
Andrew Hankey
Andrew Hankey is a Botanical Horticulturist and works for SANBI at the Walter Sisulu National Botanical Garden where he is the Assistant Curator / Specialist Horticulturist. Andrew and his Proteadal Conservation Association team including Tony de Castro and Belinda Cooper have been instrumental in pushing the conservation of the Albertina Sisulu Orchid into the public space. Andrew rediscovered the orchid in its Krugersdorp location in 2007 and is passionate about the conservation of the ridge area behind the Walter Sisulu Botanical Garden together with its diverse plant and animal life and specifically the Albertina Sisulu Orchid. 
Abstract

A crowdfunding project was conducted by the Sugarbush Ridges Coalition as an experimental exercise to assess whether this model would be effective as a method of fundraising for purposes of conservation. An overview of the process, successes, failures and lessons learned are discussed. 
Download the full paper Crowdfunding-as-a-funding-model-for-conservation-A_Hankey-WOSA4-2019.pdf
13. Orchids of the Southern Drakensberg
Richard Braby
Julie & Richard Braby have had a holiday cottage in the Drakensberg since 1986. Their interest in orchids started around the time when they moved into this area permanently in 2006.
Since then most of their free time during the orchid season is used searching for new species that they have not seen before. A lot of the time was spent in the KZN wildlife area at Garden Castle. 
Richard is about to publish a book entitled 'Wild Orchid of the Southern Drakenberg'.
It has taken 12 years to complete and Julie has said it would have been published posthumously if were not for the Orchid Conference spurring him on to complete it.
The book will be available from March or April 2019 onwards.
Abstract

This is a photographic representation of the Orchids found in the 30km band from Ramatsoliso's Gate to Loteni Nature Reserve. Julie and I are fortunate that we share the same passion for the mountains. I enjoy photography and Julie is interested in the flora so we combined our interest and almost every weekend we headed into the hills. My original objective was to produce a book on all the flowers in our area however this soon proved to be an overwhelming task . The field was narrowed down to orchids which as it turned out was not as easy as I expected. 12 years later the format of the book changed from a simple coffee table book with pretty pictures to a far more serious study of the plants. The intention of this book is to help orchid enthusiasts to identify orchids without having to have much botanical knowledge. The book is largely pictorial showing differences between similar species with illustrations. The purest will probably dispute the accuracy of this method however I am certain satisfactory results will be achieved. As the incorrect identification is not life threatening the simplified process will do no real harm but will certainly allow the reader to make the task a lot less daunting. If a hundred percent accuracy is required there are several references books available which are very useful but frustrating if you are not a trained botanist.
14. Workshops
WORKSHOP 1 
Facilitator Prof Craig Peter
WOSA Rhipidoglossum millarii rescue and re-introduction Project
Sunday morning kicked off with a discussion and the formulation of the plan around the that Prof. Craig Peter had secured for sowing seed of Rhipidoglossum (formerly Diaphananthe) millari. The idea is to re-introduce plants not only into the original locations where they have been stripped by muthi collectors but possibly also introduce them into trees on private property and municipal trees. 
15. Field trips

The venue was selected to give delegates the opportunity to see the indigenous orchids of the southern Drakensberg during outings on the Friday before and the Sunday after the Conference. More than 21 orchid species were seen on the field trips that were arranged by the KZN CREW teams led by Judy Braby. These trips were designed for those that simply wanted to step out of the vehicles into the orchids to a light amble through the grasslands or the more challenging walks. Delegates were able to choose the walk most suited to their liking. Each group was accompanied by a guide from the local CREW team.